Product Detail
VX 820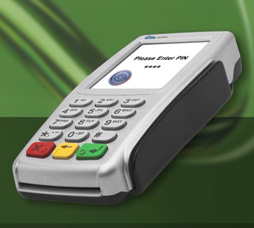 Easy and Secure PIN Entry for Consumer TransactionsThe VX 820, with its high resolution 3.5" color touch screen and illuminated backlight keys, ensures readability and usability in any environment. It enables you to deliver targeted promotions and branding messages, resulting in a pleasant customer experience and increased loyalty, ultimately leading to greater revenue.
While consumers can use the VX 820 PIN pad to enter their PINs for convenient and private payments, merchants can display their logos and other graphics to improve customer recognition and loyalty. The future-proof VX 820 supports credit, debit and EMV transactions, and includes integrated NFC/contactless  technology for alternative payments. The slim, stylish payment device is easy to use, and backed by the secure VX Evolution platform. 
Key features include:

Ease and Convenience
The VX 820 can also be used as part of the VX 820 DUET for a complete solution, including a feature-rich, all-in-one base unit.
Power and Performance
Blazing fast 400 MHz ARM11 processor and 160 MB of memory enable merchants to simultaneously run more applications and allow acceptance of a variety of payment types, loyalty programs and more.
Security and Reliability
Uncompromising security features – including EMV and PCI PED 2.0 with the option of PCI PTS 3.0 – to protect customer data and reduce merchants' risk.