Product Detail
Clover® Station Pro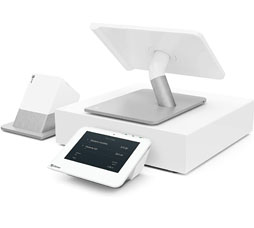 Anything but plain. Nothing but simple. Point of sale system designers have often looked to the Clover® Station as the standard in innovative design, ease of use, and integrated performance. Now the new Clover® Station 2.0 is arriving on the scene; storefront owners everywhere are asking what the new Clover® POS station has to offer them. We have taken a close look at the new release to see what makes it different compared to earlier options and other Clover® products.
Key features include:

Enjoy a large 14″ high-definition display that swivels for added convenience.
Swipe (Magstripe), Chip (EMV), NFC (Apple Pay, Android Pay and Samsung Pay), Cash and Checks
Take orders, apply discounts and send to the kitchen all on the fly
Stay ahead of the game and ensure your contactless delivery goes smoothly.
Proprietary pivot arm swivels smoothly between merchant and customer
Reduce cord clutter with a single power source for display and printer
Ethernet, wireless, and Bluetooth options for optimal connectivity
Connectivity hub: 4 USB 2.0 ports and 2 cash drawer ports
Product Specifications:

Display: 14.0″, 1920×1080 TVDPI (160ppi)
Dimensions: H: 9", W: 11.0", D: 7.5"
Payments: EMV chip card reader, NFC reader, and MSR reader
Peripherals: Hub with four USB device ports and two RJ12 cash drawer ports
Connection: Ethernet, Wi-Fi, and 4G/LTE
Processor: Qualcomm Snapdragon 660 octa-core processor
Memory: 2GB RAM, 16GB flash
Operating System: Clover's hardened version of Android (AOSP) 8.1 (API Level 27, Oreo)
The Clover name and logo are owned by Clover Network, Inc. a wholly owned subsidiary of First Data corporation, and are registered or used in the U.S. and many foreign countries.