Product Detail
Clover® Go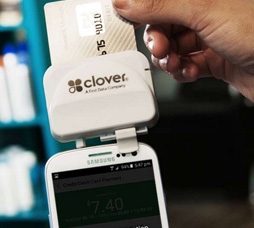 Accept safer payments on the Go Accept payments on the go, wherever you go. Whether you're selling at the local farmers market or at a customer's job site, Clover® Go makes it easy to take your business to your customers.

Securely and reliably accept credit and debit cards – including EMV® chip cards – with ease, right from your smartphone or tablet. Clover® Go also comes with clear and intuitive reporting on sales activity along with insights on other local companies in your industry. Reliable support is available whenever you need it.
Benefits for Business

The Clover® Go solution is fast and reliable. It supports chip and swipe payments, and comes with TransArmor® – the industry's leading data protection solution, so you can accept payments with confidence.
With the Insightics® Solution, you'll receive a weekly email containing powerful information on your business performance to help you make better business decisions.
And Clover® Go grows with your business. You can easily move to other Clover® devices and solutions as your business evolves.
The Clover® trademark and logo are owned by Clover® Network, Inc., a First Data company. All other trademarks, service marks and trade names referenced in this material are the property of their respective owners.